Establishment of an innovative platform for drug discovery targeting membrane proteins
Professor Murata Takeshi
We are studying the membrane proteins located on the cell membrane. They have many functions such as transportation and excretion of substances inside and outside the cell, information transmission between cells, and energy synthesis.
They are also important target molecules in drug discovery because of their association with many diseases. However, human membrane proteins are often difficult to purify due to their low thermostability, which has been a bottleneck in drug discovery research. For many years we have focused on membrane proteins and promoted basic research to accelerate membrane protein research, and developed five original technologies (Key 1-5 shown below). In October 2021, we established the "Membrane Protein Research Center: MPRC" based on these technologies.
Key 1: Thermostable mutant production of membrane proteins using original theoretical calculations
Key 2: Rapid purification technology for membrane proteins
Key 3: Technology to search for compounds that can be used as seeds for drugs
Key 4: Technology for producing functional antibodies that lead to antibody drugs
Key 5: Membrane Protein Structure Determination Technology
We aim to develop and accelerate "drug discovery in academia targeting membrane proteins" in MPRC, by upgrading above technologies and developing four new essential technologies (Key 6-9).
Key 6: Drug design technology using original theoretical calculations
Key 7: Recombinant antibody drug production technology using original theoretical calculations
Key 8: New cellular drug evaluation technology (innovative cell sensing technology using EIT sensor)
Key 9: New animal drug evaluation technology (highly sensitive non-invasive imaging technology using quantum sensors)
We will generate several drug candidates through above innovative basic technologies, (Key 1-9) and establish an industry-academia-government collaboration platform at Chiba University.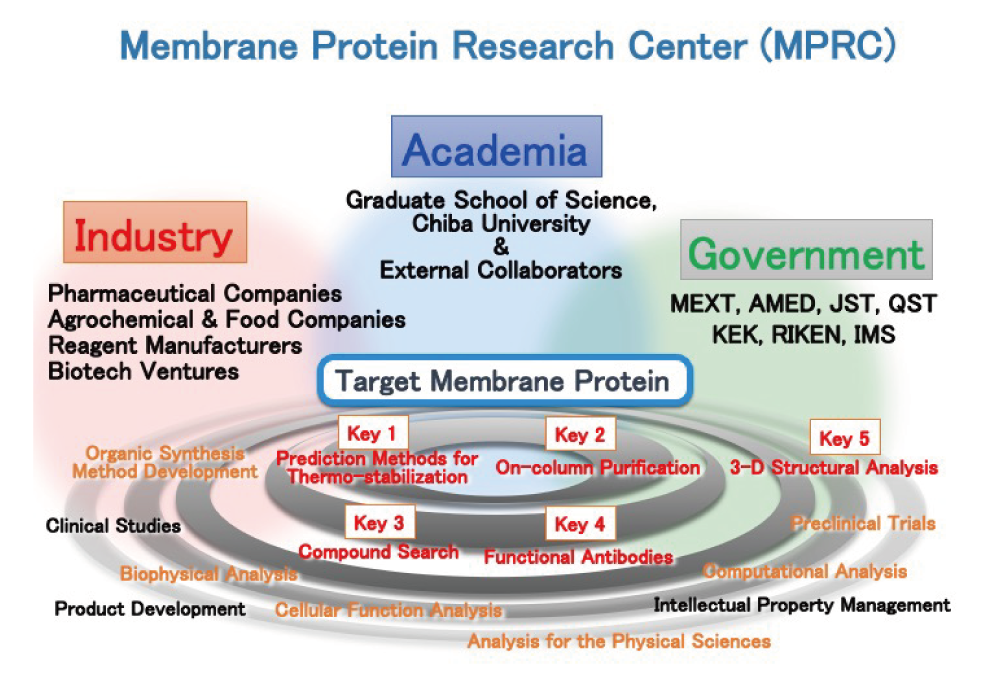 Click to enlarge