Our Research Strategy
Chiba University formulated the "Chiba University Aspirations" on July 3, 2021.The university lays out the following four research goals to promote the world-leading research and establish a hub for Global Brain Circulation:
Appreciate academic diversity to encourage creative research
Promote world-class academic research to pioneer new interdisciplinary research fields
Accelerate innovative research to create new academic value
Establish a research-faculty organization, "International Strategic Research Institute."
What is Institute for Advanced Academic Research?
Chiba University established the Institute for Advanced Academic Research (IAAR), a hub to generate advanced and innovative research, based on the Chiba University Aspirations. IAAR selects and supports cutting-edge research from each field to develop world-class research. The program also fosters young and mid-career researchers to deliver their full potential.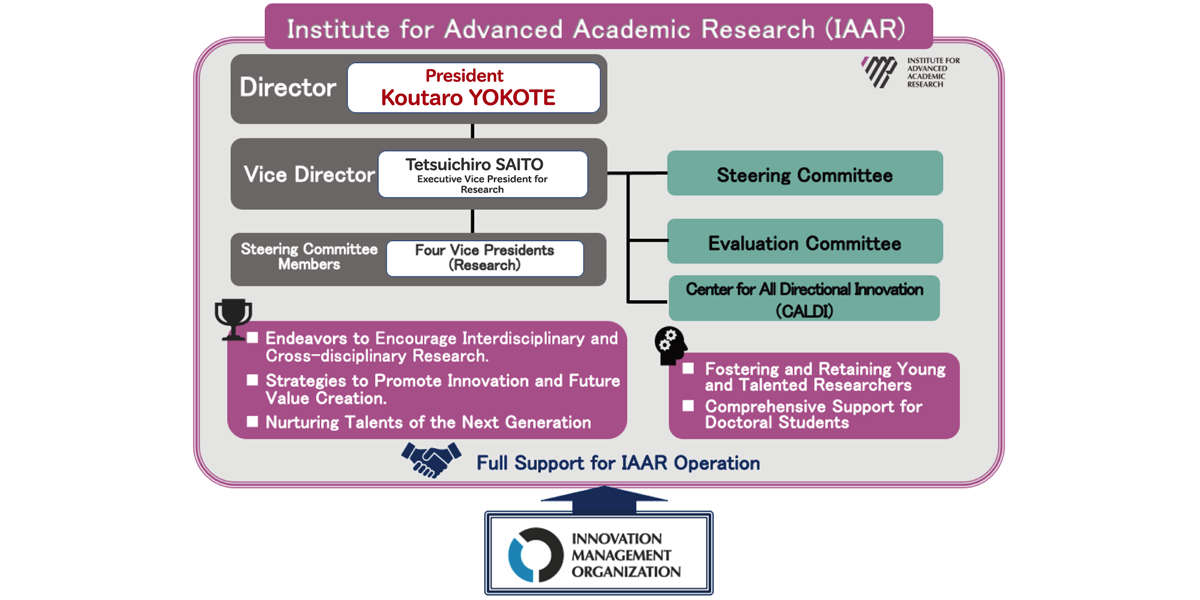 Young Researcher Support Programs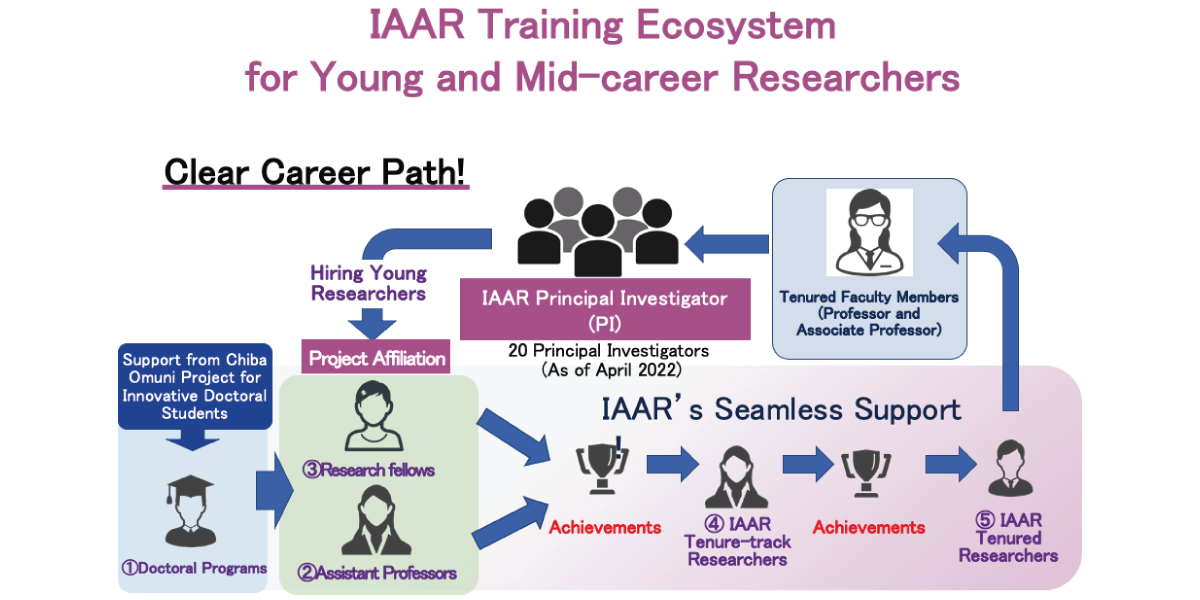 Click to enlarge
(1) Detailed and comprehensive support for the selected researchers
We provide stable career paths and excellent research environments for the selected PIs of IAAR. We believe our detailed and comprehensive support will help our outstanding researchers create innovations for the world.
(2) Tenure Track Associate Professor Position
We recruit talented young researchers who are making outstanding achievements in their respective fields inside and outside Chiba University as associate professors on the tenure track. We expect them to lead world-class research as a faculty member at Chiba University.
(3) Specially-appointed Assistant Professor Position
We hire young researchers who meet the following conditions as specially-appointed assistant professors.
Those who finished a support program for graduate students, "Center for All Directional Innovation," supported by "Support for Pioneering Research Initiated by the Next Generation" of Japan Science and Technology Agency (JST).
Those who finished a "University Fellowship Project for the Creation of Science and Technology Innovation" supported by of JST
Alumni of Research Fellowship for Young Scientists of Japan Society for the Promotion of Science
Alumni of JSPS Postdoctoral Fellowships for Research in Japan.
Research Support Programs
The IAAR offers two programs to support research projects led by Chiba University researchers. As a university that values academic diversity, we consider it our mission to develop interdisciplinary fields. We support projects with huge potential to make dramatic progress in each area and encourage the creation of innovation.We hope that the programs will accelerate and enhance research so that supported researchers will produce excellent research results, obtain large-scale research funds, and form research bases in the future.
(1) Advanced Interdisciplinary Research Support Program
This program supports intriguing research projects that aim to explore theories and truth in each academic field and develop new research areas. The funded projects are expected to contribute to the improvement of basic research.
(2) Social Value Creation Research Support Program
This program supports ambitious research projects that aim to bring about social change in the future society by applying their research achievements to community. Research achievements vary from the development of related technologies and equipment to the theory construction and policy recommendations. The supported projects are expected to create social value based on research achievements.