Establishment of a food production and resource recycling system for long-term habitation in space and extreme environments
Professor Mitsumasa Hanaoka
As part of future space projects, exploration and habitation on the Moon have been studied internationally. Moreover, in Japan, The Japan Aerospace Exploration Agency (JAXA) and related organizations are studying technologies for crop cultivation, automated systems, and recycling resources to realize a "Moon Farm". In the near future, approximately in the 2030s, it is assumed that 100 to 1,000 people will stay on the Moon for an extended period of time; thus, food supply is essential, and food production with sustainable resource recycling will be of utmost importance.
Countries that are exploring space development are expected to use artificial light plant factories for food production on the Moon. However, questions such as which types of crops are appropriate and what kind of cultivation systems could be used to efficiently produce them on the moon have not yet been answered. Therefore, it is necessary to challenge the establishment of a super-efficient and sustainable food supply system in the space environment. In particular, the construction of a fully recycling-oriented production system through the effective utilization of waste materials in a closed space environment is urgently necessary.
In addition, our studies, which are aimed at food production in the space environment, are expected to stimulate the agriculture and food industry on Earth, especially in extreme and poor environments. Furthermore, they are important approaches for solving the problems currently prevailing in society as they provide the knowledge necessary to build a recycling-oriented society on Earth. Based on these backgrounds, we aimed to develop a food production system with resource recycling in the space and specific environments by utilizing the cutting-edge horticultural science and technology that we have accumulated.
In the field of space exploitation, the realization of sustainable food supply using frontier agricultural and biotechnological technologies are innovative, and these technologies developed for space and extreme environments will contribute not only to the practical use of space habitation such as on the Moon but also enhance agricultural production, recycling, and environmental preservation on Earth. Future expansion is expected to accelerate the commercial production of plant factories and develop zero-emission technologies for agriculture.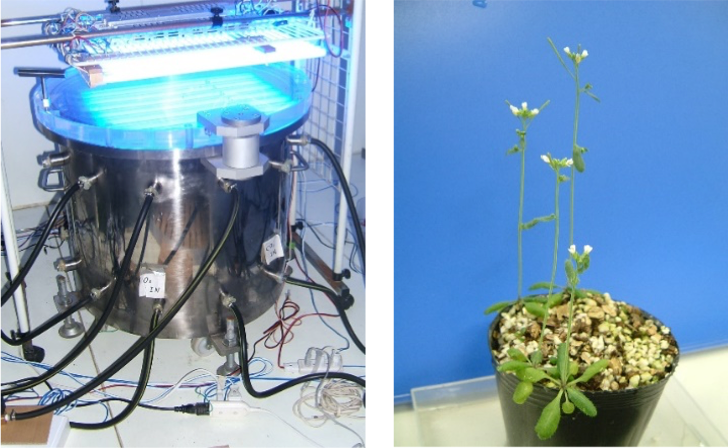 Low-pressure plant cultivation for the vacuum of space "Arabidopsis thaliana that flowers and bears fruit at 0.1 atmospheric pressure
Click to enlarge


Rice hydroponic cultivation system envisioned for a lunar plant factory
Click to enlarge