The latest issue of Chiba Research has been published in February 2018.
Reaching New Horizon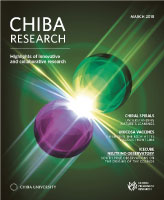 Download
Welcome to the second issue of Chiba Research, a publication that showcases the diverse and innovative work being undertaken at the Institute for Global Prominent Research (IGPR), Chiba University. The institute was established in 2016, with the ambitious goal of becoming a global hub for top-class research in fields as far-reaching as neutrino astronomy, the science of plant-based medicine, three-dimensional holography, and the creation of a fair, egalitarian society.
Table of Contents
Title
page

MUCOSAL IMMUNOLOGYAND ALLERGYTHERAPEUTICS
Fighting pathogens at their point of entry

04

CHIRAL MATERIALS SCIENCE
Using light to establish a new field of chiral materials

06
INTERNATIONAL CENTER FOR HADRON ASTROPHYSICS
Revealing hidden messages from the cosmos
08
PHYTOCHEMICAL PLANT MOLECULAR SCIENCES
Unlocking the potential of phytochemicals
10
CENTER FOR INNOVATIVE MICROWAVE REMOTE SENSING
The next wave in remote sensing
12
MULTIMODAL MEDICAL ENGINEERING
Toward image-based disease diagnostics
14
CHIBA STUDIES ON GLOBAL FAIR SOCIETY
Forging a fairer world
16
HIGH-EFFICIENCY ENERGY CONVERSION
Toward a zero-emission society
18
CANCER EPIGENOME CENTER
A different approach to fighting cancer
20
INTEGRATED RESEARCH CENTER ON REGENERATIVE SYSTEMS
Steeped in stem cells
22
MEDICAL MYCOLOGY RESEARCH CENTER
Manipulating microbes for human health
24
NEXT-GENERATION 3D DISPLAY AND MEASUREMENT
Future images — more than meets the eye
26
MEDICINE FOR IMMUNE RELATED RARE DISEASES
Innovative approach offers hope for intractable problems
28
SOFT MOLECULAR ACTIVATION FOR INTELLIGENT MATERIALS
Catalyzing the future of smart materials
30
IMAGING SCIENCE AND TECHNOLOGY FOR MATERIAL APPEARANCE
Realness in digital images
32
GLYCOMEDICINE RESEARCH CENTER
Sugar science's immunotherapy play
34
MULTI-PERSPECTIVE UNDERSTANDING COGNITIVE BEHAVIOUR GROUP
Predicting human behaviour
36
CENTER OF EXCELLENCE FOR END OF LIFE CARE
Putting the care back into end-of-life care
38