The 3rd IGPR Symposium will be held on November 6th.
On November 6th, the Institute for Global Prominent Research (IGPR) will organize the 3rd symposium at the Nishi-Chiba Campus.
Chiba University established the IGPR on April 1st, 2016 to cultivate research groups, which will play a key role in research at the university. This year, 22 research projects were selected by IGPR.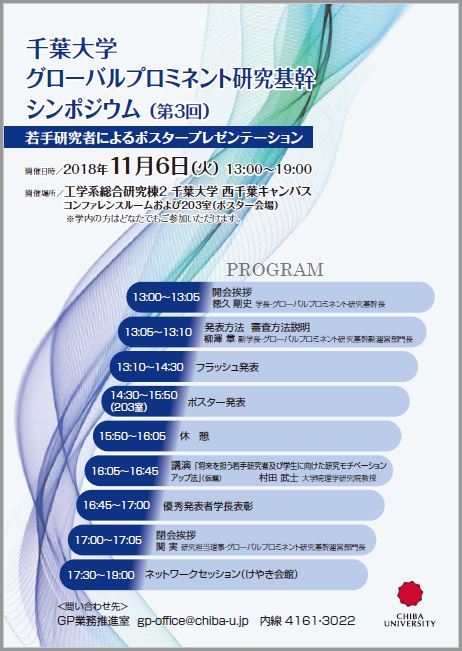 In this symposium, the 22 research project teams and a candidate team will conduct the oral and poster presentations.
We will also invite Prof. Takeshi Murata from the Graduate School of Science as a keynote lecturer. He is going to provide valuable information to encourage junior researchers and graduate students.
You can join this symposium anytime without prior registration. We especially welcome graduate students and junior researchers!
DATE&TIME: November 6, 2018 (Tue), 13:00-19:00
VENUE: Conference Room and Room 203 (Poster Session), Engineering Research Building 2, Nishi-Chiba Campus.
PROGRAM
13:00-13:05
Opening Remarks
Takeshi Tokuhisa, President of Chiba University, Director of IGPR.
13:05-13:10
Brief Explanation for the Method and the Evaluation Akira Yanagisawa, Vice President of Chiba University, Deputy Head of Management Division of IGPR.
13:10-14:30
1-minute Presentation by poster presenters
14:30-15:50
Poster Presentation (ROOM 203)
16:05-16:45
Keynote Lecture
Takeshi Murata, Professor, Graduate School of Science.
16:45-17:00
President Award
17:00-17:05
Closing Remarks
Minoru Seki, Vice President of Chiba University, Head of Management Division of IGPR.